Warsaw UNIT has been awarded in the prestigious European Property Awards 2022-2023 contest as the best office building in Poland and for the best architecture among high-rise buildings.
Warsaw UNIT won in the Office Development and Commercial High Rise Architecture categories. European Property Awards recognize the highest achievements of companies operating in all sectors of the real estate industry. For more than 20 years, property market experts have granted awards to the most innovative and original commercial and residential buildings in Europe.
Warsaw UNIT has been recognized for its state-of-the-art technological and environmental solutions, which significantly increase the comfort and safety of the building's users. The jury also awarded the architectural design of the skyscraper. Its body – with a distinctive corner – creates a metropolitan dominant and perfectly reflects the character of the dynamically developing business part of Warsaw.
"This is another such significant award for Warsaw UNIT, which we are very proud of. Our skyscraper is designed to create the best working environment. Our projects focus not only on modern architecture. All amenities are created to meet the highest technological and environmental standards and to satisfy the needs of the most demanding tenants. Warsaw UNIT is certainly one of the best office buildings in Europe, as confirmed by numerous prestigious awards, including European Property Awards," says Jeroen van der Toolen, Managing Director CEE, Ghelamco.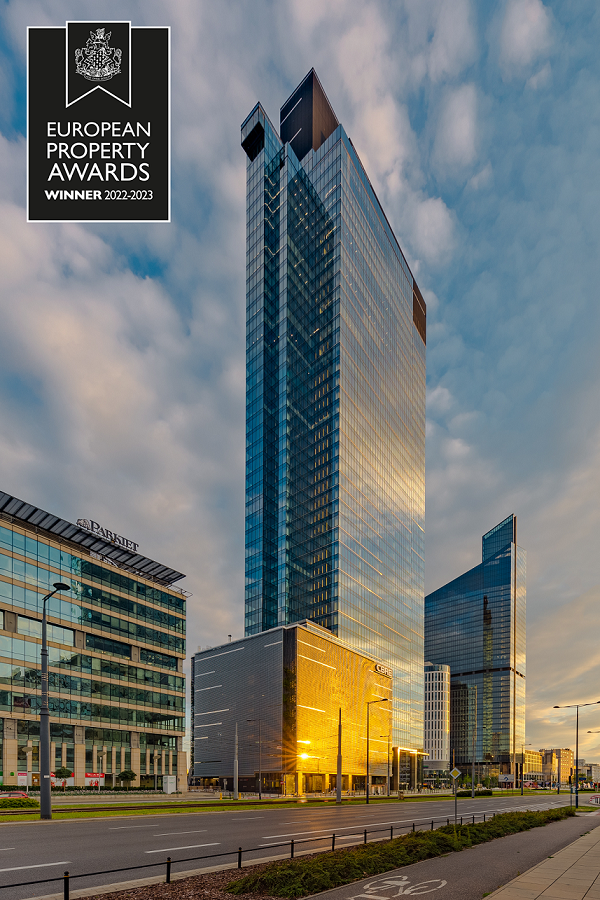 "A great motivation in the work of an architect is when many years of creating concepts, solving design conundrums and the work of a staff of people are rewarded with such a prestigious award as the European Property Awards. Then we know that what we create – that is, what is an integral part of the city – is appreciated and met with such a positive reception. After all, this is the environment of hundreds of thousands of people who work in office buildings, drive by them, or walk by them, and are both its direct users and simply observers of the developing urban composition of Warsaw. We create architecture for each of these audiences. Every word of appreciation reaffirms how worthwhile it was to pay attention to every architectural detail and think through every solution, because only the collection of these smallest components produced the effect that the most distinguished jurors appreciate. We are very grateful and feel honored that the Warsaw UNIT project was so highly appreciated," says architect Adam Wagner, President of Polsko Belgijska Pracownia Architektury PROJEKT.
The international finals of the contest will be held in February 2023. At a gala in London we will find out which projects will be awarded the title of the best in Europe.