Cedet (Centralny Dom Towarowy) is a building that has, in recent years, been occupied by Smyk. It was built in post-war Warsaw and was at the time an exemplification of modernity. Unfortunately, a fire and the communist era took their toll on the building's condition. However, today, the building is well on its way to being restored to its former glory. Bartłomiej Hofman, Managing Director, Immobel Poland, discusses the past, present and future of this iconic building.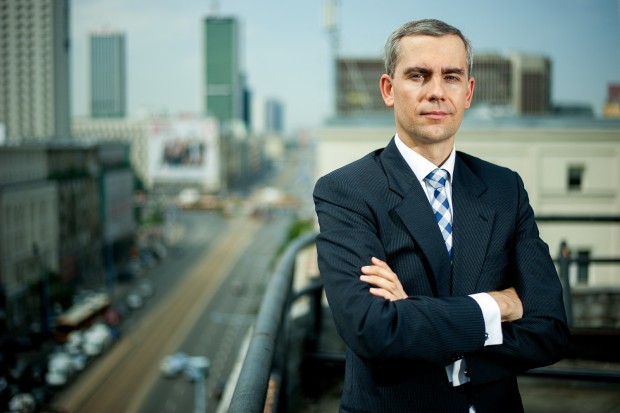 Anna Wasilewska-Dąbek: First, I would like to congratulate you on the Cedet project. Immobel has already restored the Okrąglak building in Poznań to its former glory and now it is time for Warsaw. The building is currently undergoing an extensive renovation. When are the works expected to be completed?
Bartłomiej Hofman: Cedet is located in the very heart of Warsaw and is a project with a rich history. It is very hard to walk past this building without noticing it. Currently, we have completed works on the slit walls and have launched enhancement works for underground walls as well as preparation for works above ground levels. This phase is scheduled to finish in May 2016. We will then begin work on the construction above ground. The installation of the building's elevation will commence at the beginning of 2017 while the completion of construction works and delivery of the building to market are scheduled for September 2017.
Anna Wasilewska-Dąbek: Please tell us more about the post-war history of the building and how Immobel acquired it?
Bartłomiej Hofman: Cedet was built in 1952 and designed by Zbigniew Ihnatowicz and Jerzy Romański. Numerous solutions were applied, including fully glass façade which was a first for Poland. At this time, it was definitely one of the most modern buildings in Poland. It rapidly became a landmark of Warsaw, a city that was being rebuilt after suffering the ravages of WW2. It functioned not only as a department store but also as a place for meetings and prominent events such as fashion shows. Unfortunately, a fire broke out in 1975 and completely gutted the Cedet building. The scheme was, in fact, re-developed but it was done rather negligently. As a result, this redevelopment did not do justice to the building's history. From the outside, the building never looked the same and the low quality materials used during the construction was generally regarded as an eyesore. In 2011, the building was purchased by Immobel and the long process of returning the building fit for the 21st century had begun.
Anna Wasilewska-Dąbek: What changes to Cedet's appearance can we expect to see after its restoration and what effect will this have on the building's functionality?
Bartłomiej Hofman: After the fire in 1975, Cedet was renovated in a very negligent way because of the use of low-quality materials and a lack of focus on details. As a result, the majority of its unquestionable architectural features were lost. Thanks to the current investment we will restore Cedet's unique character and long-lost glory. Warsaw's residents will see the return of a much-loved building. Cedet is well-known in the capital city and we want Varsovians to be proud of it. We believe that it will continue to be one of Warsaw's landmarks. We hope that thanks to the restoration of its retail and service functions, the project will bring new life to this part of the city. The building will offer approx. 7,500 sq m of high-class retail space on floors from -1 to +1 and over 15,000 sq m of high-quality office space. The top floor will be an absolute show stopper as it will be surrounded by a terrace of over 800 sq m. An underground parking lot, available to the public, will also be developed.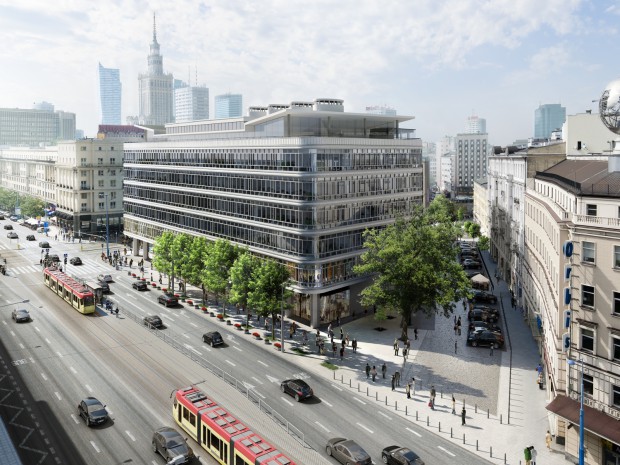 Anna Wasilewska-Dąbek: Therefore, we can expect a building of the highest quality…Could you tell us more about what the building offers for both office and retail tenants.
Bartłomiej Hofman: Contrary to most buildings currently under construction, Cedet will have something that cannot be bought or developed artificially – its own, rich history that stretches back to the 1950s. Many Warsaw residents visited the building in the past and still remember a number of events that were held there. I believe that no one is indifferent towards this project and almost everyone has fond memories of this building – be it either the purchase of one's first teddy bear or their first time on escalators. Thanks to our investment, CEDET will be reborn and will help to create fond memories for a new generation. Nevertheless, CEDET is not only history. In order to meet the expectations of tenants, the building will offer both the most modern technical solutions and numerous amenities. Its location in the very heart of Warsaw as well as its low-profile are further, additional advantages of Cedet.
Anna Wasilewska-Dąbek: What will Cedet's retail section look like?
Bartłomiej Hofman: Retail is an integral part of this project and this type of retail offer will be aimed at a wide range of customers. This retail area will attract Warsaw's residents during and outside of office hours. Space for recreational activities as well as informal meetings will be created after the building's completion along with services units on Bracka and Krucza Streets. We will breathe new life into the surrounding area with the communal space adjacent to Cedet. The opening of the retail section will take place simultaneously with Cedet's delivery to market in September 2017.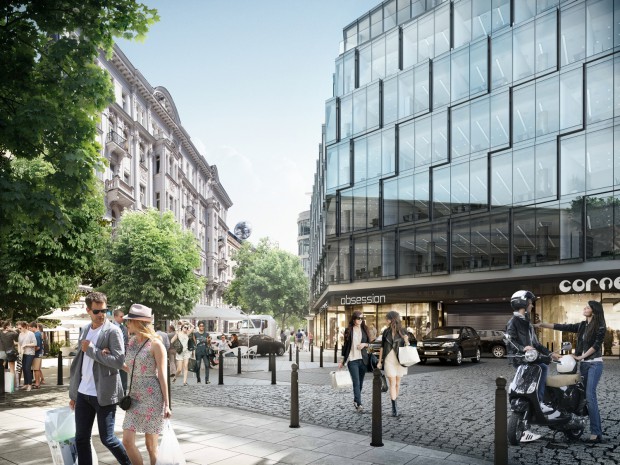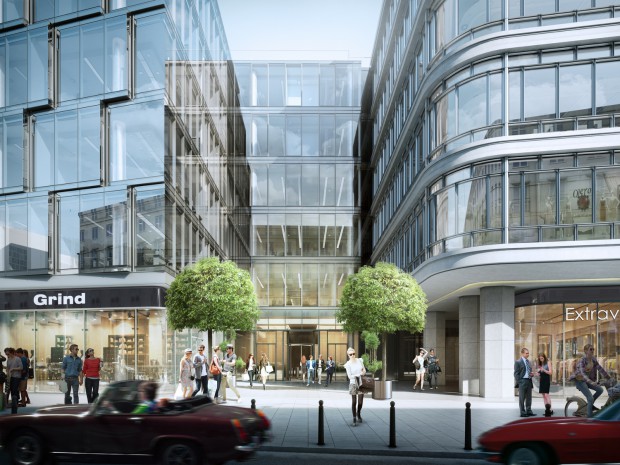 Bartłomiej Hofman: Another investment by Immobel in Warsaw will be the 22-floor CBD One building located on the crossroads of Świętokrzyska and Marszałkowska Streets. It's a unique location at the meeting point of two metro lines and its modern architecture will be prominent elements of the building. The scheme will offer over 19,000 sq m of office and services space. We are planning to launch the development of this project in Q4 2016.
As for Gdańsk, we are about to launch a project that is unique, in terms of scale for Poland. The revitalization project of the Northern headland of Spichrzów Island will be developed through a Public-Private Partnership initiative. A multifunctional project will be developed and will include hotels, apartments and service units. Underground garages will be developed along with the construction of Św. Ducha footbridge linking Długie Pobrzeże with Spichrzów Island. Similarly to Cedet, we are aiming to bring new life to this part of the city.
Anna Wasilewska-Dąbek: Thank you.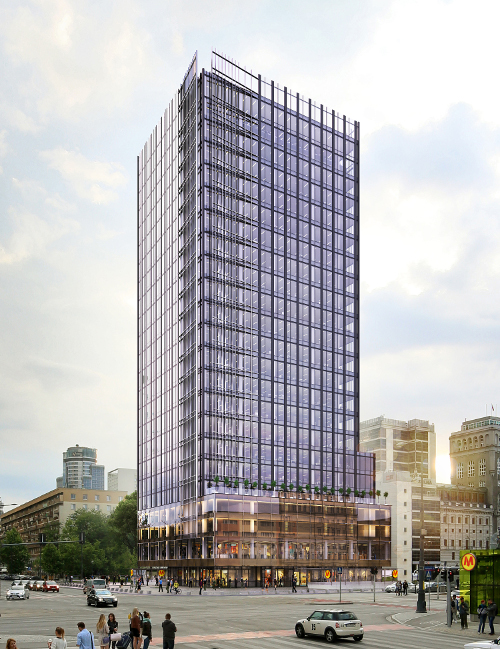 CBD One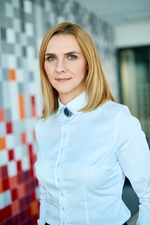 Anna Wasilewska-Dąbek
Communication Manager Poland&CEE, JLL
The interview was conducted by Anna Wasilewska-Dąbek, Editor of Bazabiur.pl. Anna is an expert in B2B communication, CRM and digital marketing. She gained her experience working for corporations such as DHL and King Sturge both in Poland and abroad for over 15 years. Anna works at JLL for 5 years.