While BPO/SSC centres are the main occupier of offices outside Warsaw, the broader services sector, followed by the public sector and banking and finance dominate in the capital city.
International advisory company JLL has analyzed lease agreements concluded in 2014 on Poland's office space market in Warsaw and the country's major regional markets [1]. The analyzed agreements were the ones that have been made public - confidential transactions have been excluded.
Office take-up totalled over one million sq m in 2014, of which ca 612,000 sq m were contracts in Warsaw.
Warsaw - services, public sector, banking and finance drive demand
Anna Bartoszewicz – Wnuk, Head of Research and Consultancy, JLL, said: "Warsaw is the largest and most developed office market in the CEE region. The capital city is dominated by tenants from the broadly defined services sector, including consulting, media, PR, marketing or legal companies. This sector accounted for 33% of office space demand in Warsaw last year. Tenants from the public sector or banking and finance are also important players in the capital city's market. An interesting trend is the leasing activity of public administration, which will continue in the near future because the majority of state-owned companies move out from older buildings to more modern facilities."
Take-up structure in Warsaw in 2014 (excluding confidential deals)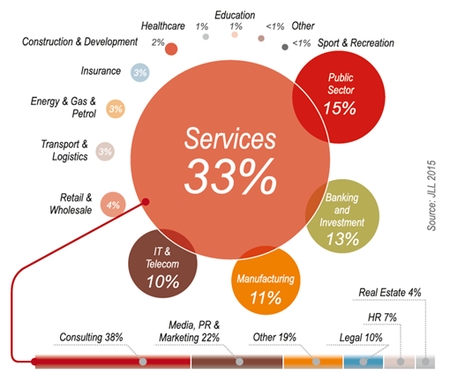 Source: JLL, 2015
Major office markets outside Warsaw - no surprises
The development of the office markets outside Warsaw is generated by services, but in the most part by business services sector (BPO/SSC) companies, providing support to other companies or corporate units.
Take-up structure in regional cities in 2014 (excluding confidential deals)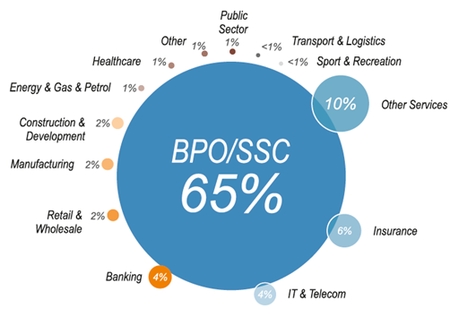 Source: JLL, 2015
Mateusz Polkowski, Associate Director, Research and Consultancy, JLL, stated: "In 2014, the BPO/SSC companies leased approx. 268 000 sq m of office space outside Warsaw. This clearly shows that without this critical industry, the office markets in Poland - apart from Warsaw - would be at a much earlier stage of development than they currently are. The BPO/SSC sector was responsible for over 81% of office take-up in Wrocław last year, whilst in Kraków it accounted for 69%. Conversely, in Poznań the business services companies had only a 13% share in the take-up structure. This may explain why the total take-up in Poznań last year was subdued in comparison to other major cities in Poland."
The outsourcing centres generated ca 65% of total office space take-up volume in 2014 on the markets outside Warsaw (excluding confidential agreements).
Which cities have benefited most from the growth of tenant activity?
Developers have clearly realized the increasing potential of the Polish market and seek to capitalize on that. The under construction office stock hit a peak of 1.4 million sq m at the end of 2014. Office leasing conditions have not been unaffected by this and, indeed, the majority of markets are currently tenant-favourable. However, the take-up remains high, and thanks to further development of companies already present in the local markets as well as the debuts of foreign investors, office markets outside Warsaw feature high net absorption rate [2].
Vacancy rate & under construction volume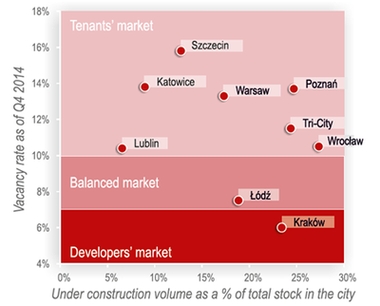 Source: JLL, 2015
"Warsaw saw a high "three-year average take-up" and a relatively moderate absorption rate. This is typical for well developed, established hubs. Booming markets which are driven by expanding BPO/SSC companies and are seeing high take-up and, even more importantly, sound absorption rates, include Kraków, Katowice, Wrocław, the Tri-City and Łódź. Poznań seems to be slightly lagging behind; nevertheless, we believe that in 2015 it should improve its performance. We expect that Polish markets, driven by very active business services tenants, will perform well both in terms of demand and absorption rates", Mateusz Polkowski summarised.
Take-up and absorption rates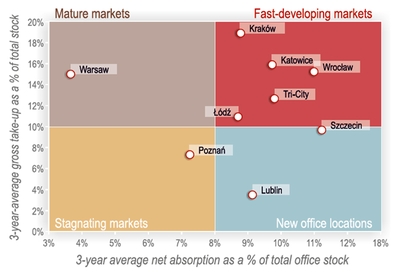 Source: JLL, 2015
---
[1] Kraków, Wrocław, Trójmiasto, Katowice, Poznań, Łódź, Szczecin, Lublin
[2] Net absorption – the difference in the volume of the space occupied by tenants during the year