Warsaw, 11th October 2011 – We are pleased to announced that development firm LC Corp has commenced the construction of the new office building located at Przyokopowa street in Warsaw, opposite the Warsaw Uprising Museum. The total lease area will reach approximately 31,000 sq m. The investment will be named Wola Center.
The concept and design of Wola Center were developed in Kuryłowicz & Associates architectural studio, which already has in its portfolio such projects as the headquarters of LOT Polish Airlines and the National Music Forum in Wrocław. Jones Lang LaSalle was appointed exclusive agent for the project and Budimex general constructor.
Wola Center office complex consists of four buildings linked by a spacious patio with greenery and modern furnishing. The separate reception area in each building of the office complex will offer a high degree of comfort. The ground floor will accommodate service units, cafes and restaurants. The buildings within the complex were designed with effective arrangement foremost in mind, offering excellent amounts of natural daylight and a feeling of spaciousness. The unique concept of eleven floors of a different floor plates enables customized interior design and area allotment for both large and small tenants. The office complex will be equipped with state-of-the-art technologies and will conform to the standards of intelligent facilities.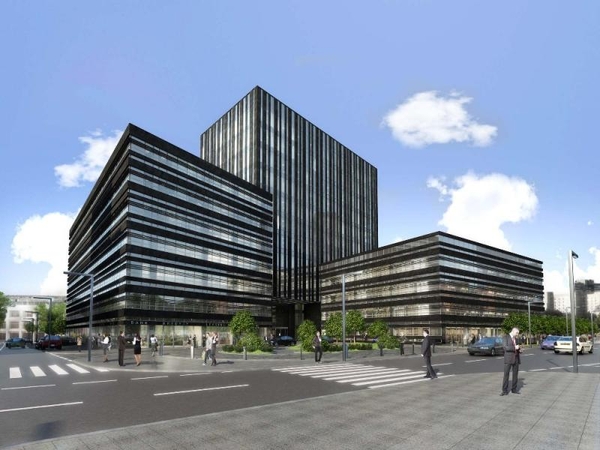 Wola Center is located on the edge of the Core City Center submarket, opposite to the prestigious Warsaw Uprising Museum. The location facilitates a convenient access by both car and by public communication with five tram and nine bus lines running in the immediate vicinity of the project. In the near future, the investment will benefit from its proximity to a new underground station located some 200 metres away, next to Daszyńskiego roundabout. Wola Center will also offer convenient access to the airport.
"Wola Center is an office project located in Warsaw's emerging financial center, near to Towarowa street and Daszyńskiego roundabout. This part of the city has proved to be a popular address for many banks and financial institutions. With regard to its convenient public transport and the planned development of the second underground line, the location appears to be a natural extension of Warsaw's city center. Importantly, the building will be also visible from Towarowa Street, a future part of the city center ring." - said Michał Lis, senior office agency consultant at Jones Lang LaSalle.
Katarzyna Dudek from LC Corp Group added, "The building is scheduled for completion in the third quarter of 2013. This will coincide with the completion of the second metro line next to Daszyńskiego roundabout, which remains an indisputable advantage of the new LC Corp investment."