WARSAW, 12 October 2016 – Wolf Theiss, one of the leading legal firms in the CEE/SEE region, has renewed its lease agreement for over 1,000 sq m of modern office space located on the top floor of the Mokotowska Square building. Experts from JLL advised Wolf Theiss on the lease transaction. Deka Immobilien GmbH, the scheme's owner, was represented by Knight Frank.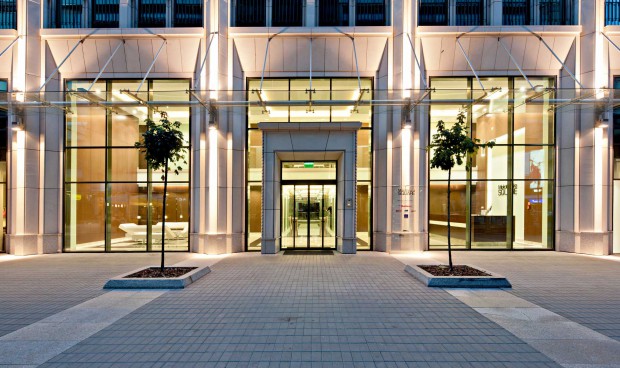 Ron Given, the Co-Managing Partner of the Warsaw office of Wolf Theiss, noted: "Our clients, lawyers and staff all agree that Mokotowska Square is an ideal address for Wolf Theiss. The building's location is in the very center of Warsaw, in close proximity to numerous companies, embassies, and public institutions as well as transportation options and abundant amenities. Its finishing standards are really world class. We are delighted with the exceptional service we received from JLL and our great cooperation with Deka and its representative, Knight Frank".
Daniel Pater, Asset Manager leading Deka Immobilien office in Poland, adds: "Mokotowska Square is a unique building in our portfolio and is distinguished by a number of advantages. It is an office icon of 1950s Warsaw. The building has been restored to its former glory, and is now thriving. Its renovated façade is eye-catching, and Mokotowska Square's excellent exposition guarantees a high profile. The building is situated in Warsaw's high street, between the stylish Plac Trzech Krzyży square and the popular Plac Zbawiciela square. Despite being located in the heart of Warsaw, the building provides a calm atmosphere which enables employees to catch their breath. As a result, tenants regard Mokotowska Square as a long-term location for their business".
Mokotowska Square offers nearly 15,000 sq m. Tenants and their guests have 60 parking bays at their disposal. The building's top floor, where Wolf Theiss is located, includes a terrace which provides a unique view of the Warsaw skyline. The reconstructed, historic facade, which was finished with the highest quality materials, underlines the classic and elegant character of the entire building. The office building is located in the center of Warsaw at 49 Mokotowska Street and is well-served by public transport.