The total volume of office stock makes Wrocław third in terms of market size in Poland. Tenant interest in Lower Silesia's capital remains at a high level - in H1 2015 ca. 46,400 sq m of office space was leased. More than 70% of demand came from the business services sector.
Wrocław, 21 September 2015 - Experts from the international advisory firm JLL summarize H1 2015 on the Wrocław office market.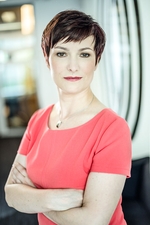 Katarzyna Krokosińska, Senior Consultant, Office Agency and Tenant Representation at JLL, responsible for the Wrocław market, said: "The total office stock in Wrocław exceeds 640,000 sq m, which makes the Lower Silesia's capital third in the country, after Warsaw and Krakow, in terms of market size. In H1 2015, developers completed almost 43,900 sq m of offices, with the largest projects commissioned for use in this period being the West Gate -16 ,000 sq m, and Dominikański A - 14,000 sq m".
Developer activity remains at a high level. In Wrocław, more than 170 000 sq m of office space is under construction, with the biggest project currently implemented being the first phase of Business Garden Wrocław (37,700 sq m).
Demand with no surprises - business services sector dominates
The increased developer activity is created by high occupier demand. Lease agreements for 46,400 sq m were concluded in H1 2015. The largest contracts were signed by confidential tenants. But large deals concluded by 3M in Dubois 41 (5,000 sq m) or Opera Software in Hieronimus (4,400 sq m) are also noteworthy.
"The key tenant of the offices in Wrocław - as in other major cities outside Warsaw - remains the business services sector. Companies from this industry accounted for more than 70% of demand registered in Lower Silesia's capital in H1 2015," adds Katarzyna Krokosińska.
The development of companies from the business services sector already present in Wrocław and the inflow of new investments generate growth in the office market and encourage developers to start new projects. This trend will continue as Wrocław remains a very attractive location for projects in this sector.
Łukasz Czajkowski, Director of the Business Support Centre, Wrocław Agglomeration Development Agency, explains: "Wrocław is one of the most well-known locations in Poland and Central and Eastern Europe for companies from the business services sector. The world's largest players, such as BNY Mellon, Capgemini, Credit Suisse, EY, HP, IBM, Luxoft, McKinsey and Qatar Airways, have branches established here. The most recent data published in an ABSL report show that in business services centers with foreign capital, over 23,700 people are employed in Wrocław. The city is the leading R&D and KPO hub in Poland, which includes advanced business analysis, legal services or consulting. The key assets of Wrocław are: a highly-educated labour force with working experience in the business services sector, a strategic location - between Prague, Warsaw and Berlin, and a well-developed transport infrastructure, both air and road. Another strength of Wrocław is its favorable investment climate and a city authorities open to cooperation with international business, focused on building a knowledge-based economy."
The vacancy rate and rents
9.4% of office space remained without a tenant at the end of H1 2015 - the vacancy rate in Wrocław is higher than in Kraków or Łódź, but lower than the values registered in Warsaw, Poznań, Katowice and Tri-City.
The prime rents per sq m of modern office space per month range between €14-14.50.
***
International advisory firm JLL advised on 42% of lease transaction volume concluded in Wrocław office market in H1 2015.