Framework agreements have been signed under which JLL will provide comprehensive project management services for 13 capital city office projects from CPI's portfolio.
CPI Property Group (CPIPG), an investor in the commercial real estate sector in Central and Eastern Europe and Germany, has signed framework agreements with JLL for comprehensive project management services for 13 office buildings with a total GLA of approximately 320,000 sq m in Warsaw. This is not the first cooperation between the two companies.
The JLL Project & Development Services team of top market professionals will be responsible for the implementation.
As part of the agreement, JLL experts will provide fit-out project management services - from negotiations with both prospective and current tenants to the delivery of fully furnished and equipped offices. The company will also recommend works contractors, control costs and oversee the project in all areas. Framework agreements between CPI and JLL encompass Warsaw office properties: Atrium Centrum, Atrium Plaza, Central Tower, Concept Tower, Equator I, Equator II, Equator IV, EUROCENTRUM, Green Corner, Moniuszki Tower, Oxford Tower, Prosta 69 and Warsaw Financial Center.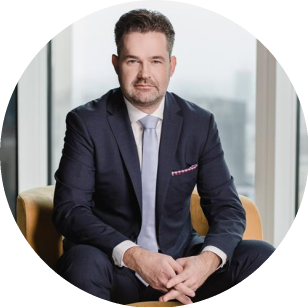 CPI, in terms of GLA, is the largest office property portfolio owner in Warsaw. It is all the more gratifying that CPI has once again placed their trust in us by involving JLL in such a major project. Having signed framework agreements with CPI, our team now manages projects totalling almost 600,000 sqm on behalf of landlords and owners. The last 18 months of the pandemic has further increased the importance of proper planning, design and preparation of offices in accordance with the tenants' new expectations regarding functionality, security, a comfortable working environment, as well as technological solutions and ecology. The synergy of processes and their appropriate management is key in meeting these expectations. In this respect, we have a wealth of experience and competencies to match.
This is another example of CPI's fruitful cooperation with JLL. Prior to this agreement, in the Warsaw Financial Center building JLL supervised fit-out projects for tenants, a major renovation of the building's main lobby and modernisation of the lifts.
The Project and Development Services team at JLL Poland consists of 25 experts with extensive experience and know-how in areas including architecture, design, engineering and project management. P&DS works with property owners from all market segments, funds, developers and leading corporate tenants. In the office sector alone, the P&DS team advises property owners and landlords on a portfolio of approximately 600,000 sqm.