Developers, real estate advisors and an international company offering total waste management, as well as recycling and environmental services, will organize the third Lose Your Kilowatts unique joint initiative.
The Lose Your Kilowatts campaign will be held between 13th and 23rd April 2015 thanks to the joint initiative of six international companies (DTZ, JLL, Knight Frank, Kulczyk Silverstein Properties, Skanska and Stena Recycling). During the initiative, electrical waste will be collected from selected office and industrial buildings. The campaign's goal is to spread a pro-ecological approach among employees working in commercial schemes as well as support for a selected charity event.
The collection of electrical waste (used electronics and electrical equipment) will begin on Monday 13th of April and will be held over 10 days. There will be special containers in buildings located in Warsaw, Katowice, Łódź, Poznań, Tri-City, Wrocław and Kraków where employees will be able to dispose of e-waste. Proceeds gathered through the selling of obsolete waste will be donated to Warsaw orphanage Nasz Dom im. Maryny Falskiej. This is the third time Lose Your Kilowatts has been held. In 2013, companies supported the WWF organization, while last year's proceeds were donated to the Synapsis foundation.
Aleksandra Surdykowska, PR, Marketing & Branding Coordinator at Stena Recycling, says: "During our initiative we will be collecting small equipment, especially computers, telephones, fluorescent lamps and energy-efficient light bulbs as well as TVs, audio equipment and other energy and battery-powered devices. Furthermore, we will collect toys, recreational and sporting equipment, video and pocket games. Computer technology and electronics are developing extremely rapidly. This means that electronic devices are quickly becoming obsolete and need to be replaced. The same applies to cell phones and household equipment. All types of electric waste that is properly recycled can become valuable resources for further re-use."
During the 2014 Lose Your Kilowatts campaign companies from the real estate sector collected over 9000 kg of electrical waste, which was a 500 kg increase on the previous year.
Beata Jońska, Head of Property Management Team at Kulczyk Silverstein Properties, states: "Unfortunately, not many people know what to do with old or used batteries, light bulbs and electrical equipment. More often than not, these things end up in trash bins or are put out on the streets. One can also increasingly find them dumped in forests. So such actions that show how to deal with e-waste are very much needed. What is also exceedingly pleasing is the fact that the campaign's additional value is the swift combination of environmental help and financial support for holidays for orphans' from the Nasz Dom im. Maryny Falskiej."
Paweł Paśnikowski, Sustainable Development Manager at Skanska CDE, says: "The goal of our joint initiative is to make our companies and employees aware that proper waste segregation is of crucial importance. We are not always aware of how and where we should gather and dump such equipment and who can recycle it. This initiative creates the opportunity for easily getting rid of old electrical and electronic equipment."
Why is e-waste harmful?
Ewelina Karpińska, CEE Sustainability Coordinator at JLL, comments: "By dumping e-waste in an ordinary trash bin we not only break the law but also create a risk to the environment. Electrical waste segregation, reprocessing and safe disposal of dangerous substances preserves our environment. E-waste comprises of many harmful substances that can escape from broken fridges, washing machines, computers, lamps or any other electronic equipment, and permeate and contaminate the soil. Furthermore, improper disposal of electrical waste can, in extreme cases, result in the poisoning of both people and animals due to dangerous substances found in used equipment. Therefore, it is of crucial importance to collect e-waste at special points where, afterwards, they can  undergo reprocessing and recycling while all the harmful substances will be disposed of."
Dr Zuzanna Paciorkiewicz, Director of Property Management Business Space at DTZ, says: "By taking part in the initiative once again we are promoting and contributing to a reduction in contamination and an increase in the recovery of secondary raw materials. This is extremely important in terms of e-waste that can present additional risk for the environment. Therefore, we deeply encourage the disposal of obsolete equipment in order to create a safe environment which can have a positive influence on our creativity."
Marcin Skierkowski, Technical Manager at Knight Frank, specializing in conducting green certification processes, states: "Owners and property managers of buildings are more and more concerned about the solutions applied in their schemes in order to be as environmentally friendly as possible. This is illustrated in green certificates. We support the owners of managed buildings in obtaining such certificates. Furthermore, we promote pro-ecological activities such as the Lose Your Kilowatts project. Due to this initiative the awareness of tenants is growing and e-waste ends up in the right place."
What does electrical waste contain?
Mercury, bromine combines, cadmium, PCB, R-12, asbestos – these are only a few of the dangerous substances that can be found in e-waste. If they end up in water reservoirs, they will eventually permeate the soil and then enter the bodies of both people and animals with the ability to cause vision disorders, hearing and speech impairments, motion abnormalities, neurological problems and cancer changes.
Therefore, one must remember not to dispose of used equipment in ordinary trash bins. It should be placed in special containers or brought to collection points. Afterwards, it should be recycled. Resources recovered from used equipment can be reused to create new things, for example the plastic used in fridges can be melted and can become hub caps, glass doors from washing machines can become heat-proof containers while components from old cell phones can be used to produce kettles.
Eurobuild, Facility Manager and Property News are providing the media patronage for the Lose Your Kilowatts campaign.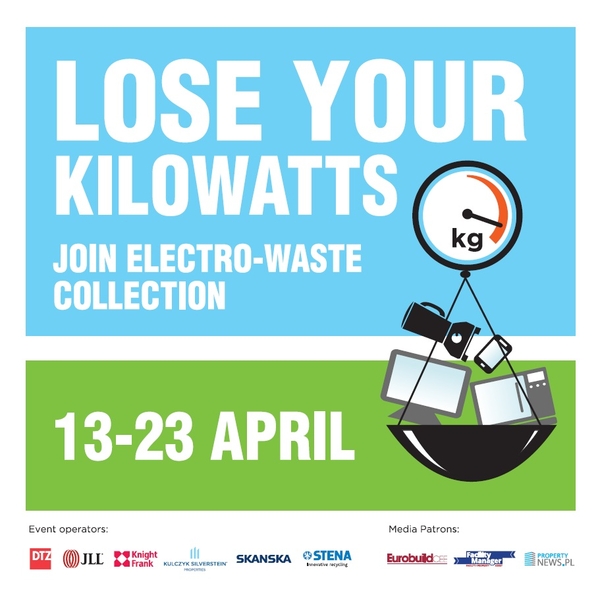 Full list of buildings, where electro-waste will be collected between 13th and 23rd April:
About companies
DTZ
DTZ is a global leader in real estate services. We provide real estate services to business, corporate occupier and investor clients, including: retail, office and industrial lease agency, integrated end-to-end service covering property and facility management, capital markets, investment consultancy, valuation, project and building consultancy. Additionally, through the best quality market research and consultancy services, we provide our clients with global and local market knowledge. By forecasting market trends and development, we provide best-in-class long-term solutions and support our clients.
DTZ has 28 000 employees, operating across 260 offices in 50 countries. More information on www.dtz.com.
JLL
JLL (NYSE: JLL) is a professional services and investment management firm offering specialized real estate services to clients seeking increased value by owning, occupying and investing in real estate. With annual fee revenue of $4.7 billion and gross revenue of $5.4 billion, JLL has more than 230 corporate offices, operates in 80 countries and has a global workforce of approximately 58,000. On behalf of its clients, the firm provides management and real estate outsourcing services for a property portfolio of 316 million square meters, and completed $118 billion in sales, acquisitions and finance transactions in 2014. Its investment management business, LaSalle Investment Management, has $53.6 billion of real estate assets under management. JLL is the brand name, and a registered trademark, of Jones Lang LaSalle Incorporated. For further information, please visit our website www.jll.pl
Knight Frank
Knight Frank Poland is a part of Knight Frank Group, one of the world's leading real estate consultancy firms, it is the biggest privately owned property firm worldwide. As the only real estate company in Poland with offices in the regional cities: Katowice, Kraków, Poznań, Wrocław, Łodź and Trójmiasto, the company can operate with great efficiency and accuracy within the local markets. Knight Frank in Poland currently employs over 120 people including the professionals with Polish and international licenses for valuations, agency and property management. Key employees have unrivalled experience in commercial property markets.
Kulczyk Silverstein Properties
Kulczyk Silverstein Properties - founded in late 2010 as a joint venture between Kulczyk Real Estate Holding S.à r.l. (KREH) and Silverstein Properties, Inc. (SPI), the firm develops and acquires office, retail and mixed-use properties throughout Central and Eastern Europe. KSP's shareholders have developed, owned and managed more than 3,25 million square meters (35 million square feet) of commercial, residential, and retail space across the United States and Central and Eastern Europe.
Skanska Group
Skanska is one of the world's leading developer and construction companies. It provides competitive solutions regarding the most complex tasks. Furthermore, Skanska's specialists manage the whole process of investment's development, from its initial idea to completed commercial and residential schemes, as well as realize Public-Private Partnership projects. In cooperation with its clients and business partners the company designs and builds in accordance with the principles of sustainable development. Furthermore, its main goal is to enhance living conditions. Thanks to this engagement, Skanska takes part in the most interesting projects of our times. It works on 10,000 schemes on three continents and employs 60,000 workers in 10 selected countries in Europe and the United States. The company's main headquarter is located in Stockholm, Sweden. Skanska's revenue in 2013 totaled 136 billion SEK, around 14,5 billion EUR. Skanska AB unit is publicly listed on the Stockholm Stock Exchange NASDAQ Stockholm. More information can be found at www.skanska.com/projects.
In Poland, Skanska Group employs over 7,500 workers in 4 units: Skanska S.A., Skanska Property Poland, Skanska Residential Development Poland and Skanska Infrastructure Development. According to "Rzeczpospolita" daily, Skanska is the most valuable developer-construction company in Poland. More at: www.skanska.pl
Stena Recycling
Stena Recycling, which operates within Stena Recycling International, is a part of the Stena Metall Group, a leading company offering total waste management and recycling solutions as well as environmental services. Stena collects and processes all types of waste: paper, plastics, ferrous and non-ferrous scrap and hazardous waste. It is Europe's leading recycler of electronics. Stena Recycling has been operating in Poland since 2001 and now has 15 local offices in the country. Each year it recycles seven hundred thousand pieces of waste generated in business activity and industry. In 2012 Stena Recycling established the first recycling station in Warsaw – STENA EkoStacja and in 2014 the second one in Swarzędz. www.stenarecycling.pl www.stenaekostacja.pl