The office market in Poland has been developing rapidly for the past few years, and that expansion has resulted in the dynamic growth of various business locations across the country.
In real estate location is one of the key factors when it comes to success. Some locations are popular year after year, while others tend to lose their importance over time. That naturally leads to the development of new business hubs. Infrastructural improvements and public transport enhancements often create attractive neighbourhoods for commercial real estate. Examples of that include the areas along the second metro line in Warsaw and the new tram line to Czerwone Maki in Kraków. Also, following the increasing saturation of labour markets in some regions opportunities for other regions emerge.
So one needs to ask: what's hot? How have relocation patterns in Poland's major office markets changed over the years? Or have they not changed at all? Is there a monopoly of well-established office hubs? In order to analyse these patterns one has to assess only new deals (excluding expansions and renewals) within a given period of time. Therefore this publication is focused solely on new demand (both in existing and pipeline buildings). That focus allows us to visualize the change in the hot-areas of Warsaw and the other major office markets in Poland (i.e. Kraków, Wrocław, the Tri-City, Katowice, Poznań and Łódź). However, the key question is: what is the main reason for that change?
One of the major drivers for new business locations in Poland is the continuous growth of the market. Poland has been on a path of steady development since the early '90s, and joining the EU in 2004 significantly accelerated that process. Warsaw's office market is now more than double the size it was in 2004. The regional markets were then practically non-existent but now they are thriving and are recognized worldwide as a reliable business partners (Kraków and Wrocław feature in many international rankings).
The changes are visible not only in quantities but also in quality. The processes performed in Poland are constantly becoming more advanced. Employees, as they become increasingly aware of their strength, expect more from their employers. And a consequence of this is firms searching for highquality office space, which boosts the growth of the office market.
WARSAW
Warsaw, as the capital city and Poland's largest agglomeration, was the natural first place for international companies looking to start their operations in Poland. Those who value prestige and are willing to pay more chose, and will always choose, the city centre. Evidence for that can be seen in the impressive developer activity in central locations. There are spectacular constructions underway such as Varso Place (an office complex featuring the tallest skyscraper in the EU), The Warsaw Hub, Mennica Legacy Tower, Generation Park and Spark, to give just a few examples. It is also important to note that the new supply is matched by strong demand for office space in the city centre.
However, a number of non-central districts also offer high-quality office space coupled with costeffectiveness, which makes them popular choices for various firms. An undisputed strength of Warsaw is the wide range of locations available for occupiers. Thanks to the ever expanding public transport system and improving infrastructure, the list of potential business hubs is growing constantly. It is quite evident in Warsaw that, despite the growing number of potential business locations, the overwhelming majority of the business activity focuses on the left side of the Vistula river. The river still remains a mental barrier for big firms, but there are some signs of change also in that respect.
Warsaw new deals 3D heatmap 2016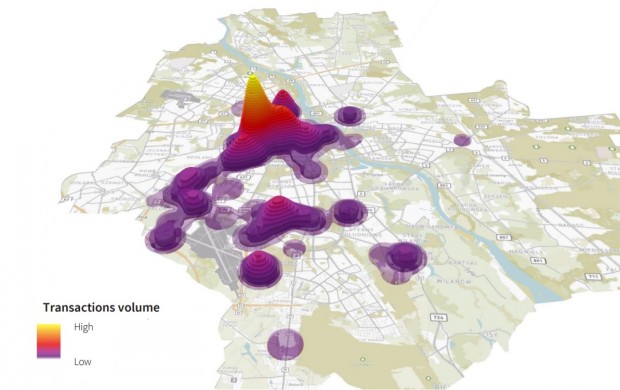 Source: Hot or not – Demand analysis in Poland, JLL March 2017
Recent relocation patterns in Warsaw are quite different from what they were a few years ago. In 2012 the Mokotów district was at its peak, accounting for almost 40% of the capital's total demand. Some of the largest new deals in that year included T-Mobile leasing 27,000 m2 in Marynarska 12, Poczta Polska taking 12,600 m2 in Domaniewska Office Hub and the IPN signing for 6,500 m2 in Empark Mars. The whole area was thriving and new deals were common. Buildings such as Ambassador, Mokotów Nova and Platinium Business Park were attracting significant numbers of new tenants. In 2016 the picture was not the same. There were fewer new deals and some of the power of Mokotów had obviously diminished. However, the district still remained a major office hub in Warsaw, a fact confirmed by deals such as those by Roche in Graffit and Eurocash in Marynarska Business Park, among others.
A new area that has become a major draw recently is Gdański railway station and Gdański Business Center, clearly a success story and the brilliant creation of a new office hub. What's more, the Jerozolimskie corridor has gone from strength to strength, attracting new firms into office projects such as Eurocentrum, Nimbus and Equator. There are also micro-locations and one-off developments that attract a great deal of attention over a certain period of time but then somehow fade. This is what happened in Wilanów after 2012 when Asseco leased 20,400 m2 in Wilanów Office Park, and from 2012 to 2015 in Placu Unii. In both 2012 and in 2016 the 'Close Wola' area was a particular hotspot. Back in 2012 Frontex took a large amount of space in the Warsaw Spire, the General Directorate for National Roads and Motorways leased 11,700 m2 in Green Corner and BPS decided to relocate to their new HQ. In 2016 the district received even more attention when BGŻ BNP Paribas signed a spectacular pre-lease agreement for 22,000 m2. One should also note that 'Close Wola' is expected to develop rapidly for the next few years at least.
Warsaw 2012                                                                   Warsaw 2016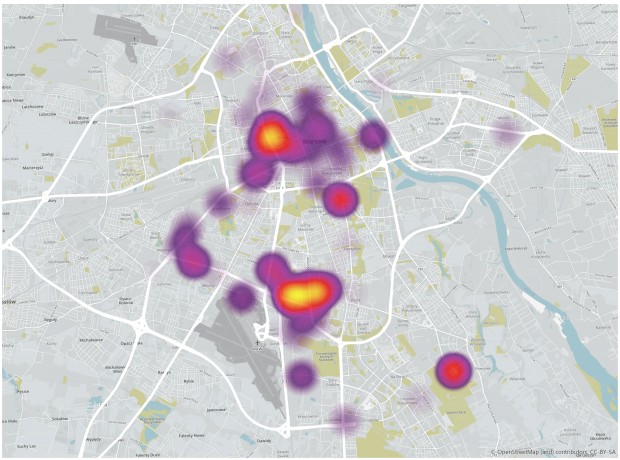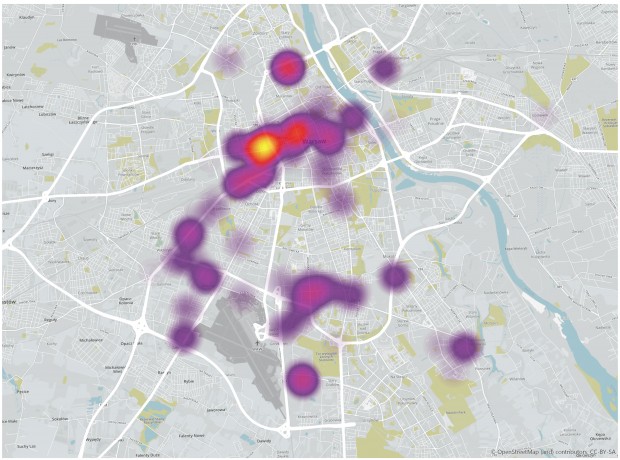 Source: Hot or not – Demand analysis in Poland, JLL March 2017